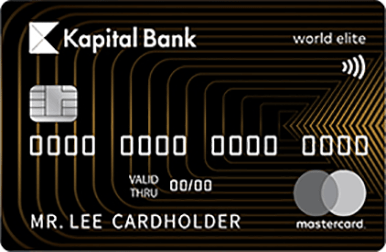 Mastercard World Elite
Elite
More than just a travel or rewards credit card. Mastercard World Elite is a personalized service that can help you experience life's most memorable moments. Anytime, anywhere in the world.
300 AZN
Card price for 1 year
Card price
1 year - 300, 2 years - 500 AZN, 3 years - 600 AZN
Connection to BirBank mobile application
Free
Comission
0% in POS transaction
Mastercard World Elite is a VIP card combining all of a Mastercard card features. This card emphasizes the holder's high status and guarantees provision of exclusive services around the world.
•

Line of credit with high drawdown limit and carrying a desired amount of money on foreign trips

•

Carrying a desired amount of money on foreign trips

•

Global customer support - MasterCard Global Service

•

Consultation on the legal and healthcare issues - MasterAssist and Travel Assistance Service

•

Emergency card replacement and / or payment of the money in case of loss

•

MasterCard Priceless program

•

Exclusive services in any country of the world - Download

•

Free "Priority Pass" card which provides access to more than 450 Lounges all over the world. www.prioritypass.com

•

Concierge service

•

Contactless payment technology