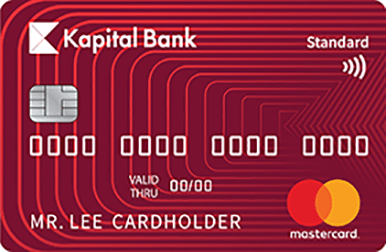 MasterCard Standard
Effective and easy
The most popular payment card.
15 AZN
Card price for 1 year
Card price
1 year - 15 AZN, 2 years - 20 AZN, 3 years - 25 AZN
Connection to BirBank mobile application
Free
Comission
0% in POS transaction
The most popular payment card. The card offers advantageous service fees and can be used to make payments using POS terminals in shops, restaurants and hotels in Azerbaijan and abroad, as well as to pay communication, utility and other fees. The card supports contactless payment technology.
•

24/7 cash withdrawal from ATMs

•

Making online payments

•

Paying for products and services in Azerbaijan and abroad

•

Carrying a desired amount of money on foreign trips

•

Line of credit option

•

Contactless payment technology
Online card order
These cards provided to you by our bank allow you to make online purchases, make non-cash transactions and so on.
How can I get MasterCard Standard