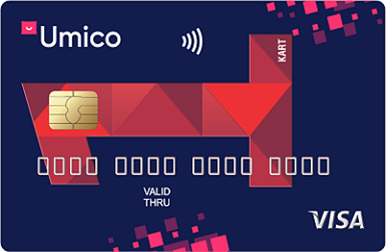 BirKart Umico (Debit)
Bonus debit card
Kapital Bank və "Competo" şirkətinin təqdim etdiyi ko-brend kart məhsuludur. Müştəri həm Kapital Bank tərəfdən verilən, həm də Umico partnyor şəbəkəsi çərçivəsində qazandığı Cashback məbləğlərini əldə edir. Hər iki tərəfdən verilən Cashback məbləği müştərinin Umico balansında bonus kimi toplanılır
10 AZN
Card price for 3 years
Card price
3 years - 10 AZN
Connection to BirBank mobile application
Free
Card validity period
36 months
* Cashback is not charged for utilities, mobile, TV, internet, guarantee, state, fine, court, tax, post, financial institutions, public transport, loan payments, but Cashback is charged for transactions made from BirBank mobile application.
•

ID cards

•

Military card for militaries
Online card order
These cards provided to you by our bank allow you to make online purchases, make non-cash transactions and so on.
How can I get BirKart Umico (Debit)?