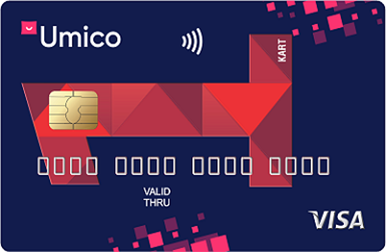 BirKart Umico
Double cashback
Making purchases with new BirCard Umico, you receive cashback from Kapital Bank in Umico bonuses. For every purchase in the Umico partner network, you get additional bonuses from Umico also.
2 AZN
Card price for 1 month
Card limit
up to 10.000 AZN
Card validity period
36 months
Grace period
up to 40 days
BirKart's Calculator
Approximate monthly payment
0 AZN
BirKart vasitəsilə aylıq 500 AZN məbləğində nağdsız ödəniş etdikdə (kredit ödənişləri və köçürmələr istisna olmaqla) həmin ay üçün aylıq xidmət haqqı tutulmur.
With BirKart Umico you can make purchases using your personal funds, credit line or installment option in the BirKart partner network and receive additional cashback with Umico bonuses. Earn on every purchase!
• Annual interest rate on transactions in installments - 0%
• Allowed periods for installments (number of months to return the purchase amount) - 2, 3, 6, 9, 12 and 18 months
• Umico Cashback rate for purchases using credit line (valid for both Umico partner network and non-Umico partners) -1.5%
• Umico Cashback rate on transactions in installments - 0.5%
• Grace period (annual rate during this period is 0%) for using the credit line – provided that the spent amount of the limit is paid by the 10th of the following month – is up to 40 days
• Interest rate for credit line - 25%
• Cash witdrawal limit is up to 60% of your BirCard Umico credit line
Thus, you get both Umico cashback bonuses from BirCard Umico card by Kapital Bank and Umico bonuses in the Umico partner network.
The amount of accumulated cashback* can be tracked in the Bonuses/Umico/History section in BirBank. Download BirBank (link) and Umico (link) mobile apps to make your purchases maximum profitable and to get convenient management of your funds.
*The maximum amount can be earned in Umico cashback bonuses is 500 AZN in 1 month. Bonuses above the limit are not accumulated and not being transferred to the next month
Cashback is calculated for transactions made from BirBank mobile app according to the following table:
(*Exceptions: government payments (court, fine, guarantee, tax), post office, financial institutions, transport.)
Who can get a BirKart?
1. Persons officially registered in the workplace;
2. Age limit - 18-67;
3. Experience at the last workplace must be at least 6 months (3 months for those who have a salary and pension card in Kapital Bank). There is no such requirement for retirees.
| Utility payments | Cashback |
| --- | --- |
| Utility | 0.2 % |
| Mobile, TV, Internet | 0.5 % |
| Other* | 0.2 % |
BirKart order
Fill out the form and get BirKart
How can I get a BirKart Umico card?